FLEXIBLE MOUNTING 
The Vizeon Series' LED Display Digital Signage has been designed and developed with an array of mounting options. Whether you desire a standard pedestal mount or customized flag mount is simply up to the end user.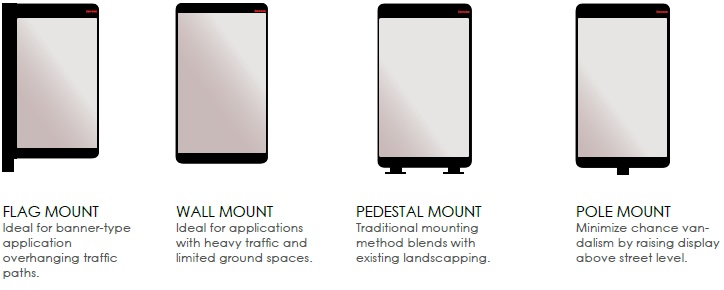 ---
RECESSED LIFT, VANDAL PROOF ACCESS & ANCHOR POINTS 
The Vizeon's recessed lift, vandal proof access and anchor points have been specifically designed to allow the user more flexibility and ease of use when installing their digital signage. The recessed lift point enables users to easily latch a crane lifting mechanism and move the Vizeon with little effort. The recessed vandal proof access is a latching system designed to be accessible only with a unique tool. Finally, our anchor points can be customized for any installation to allow users to lock their Vizeon display to any surface.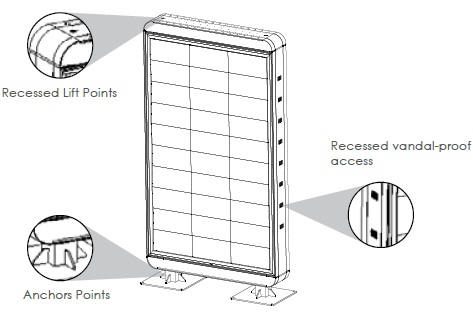 ---
ULTRA HIGH BRIGHTNESS
LED Digital Signage is the only true daylight-viewable solution. We ship our displays at 6,000 nits – 3 to 5 times LCD street furniture brightness for equal or less power. LCD's are typically rated at 700 to 2,000 nits and appear washed out during peak sunshine hours.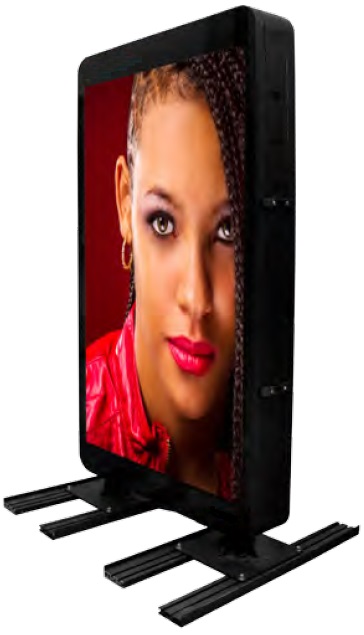 ---
PATENTED IN HOUSE CUSTOM CONTROL SYSTEM
Our Control System can run on-line (synchronous) as well as off-line (asynchronous). The displays can be accessed, controlled as well as monitored online thanks to our unique, reliable and stable Linux-based platform.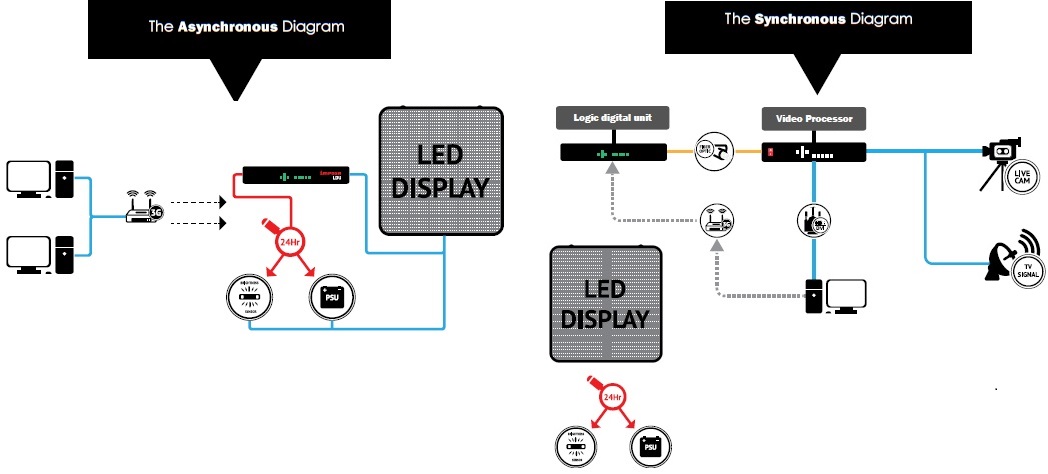 ---
DATA, POWER BACK-UP & MONITORING
The system monitors every LED lamp and Power Supply, with the ability to notify immediately upon failure. This highly innovative function ensures continuous display up-time. In case of failure, your displays' control system can send a SMS or an e-mail, and inform you of the exact error in occurring.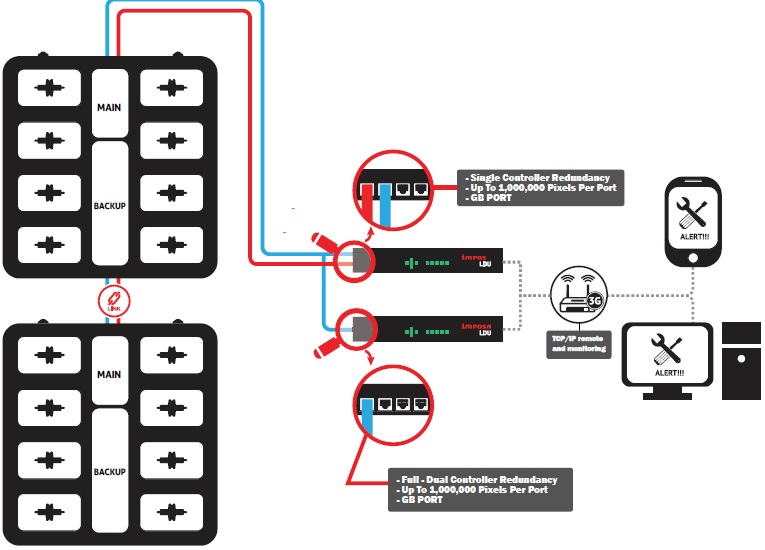 ---
SYSTEM CALIBRATION
All X & Y coordinates are kept in our client project database. When you order new tiles for an existing project we retrieve the original X & Y coordinates. This ensures during calibration all colors are matched properly. Typically in video mode you will not see any color differences, however when white is at 50% brightness the user may see a slight difference in color.
---
COLOR ENHANCING
After calibrating with our Radiant PM-1400F Calibration System in a dark room, the wave length difference for each color will only be less than 0.01nm. Our patented control system allows users to select several different color spaces such as; 2k (REC709), 4K (REC2020) or create your own color space by using our user-friendly software.
---
COLOR COORDINATION PROCESS
The same batch of LED's with discrete distribution are all moved to PAL Mode Chroma Area through color coordinate calibration Technology. Since each LED batch produced has different coordinates this requires precise color calibration, which in turn allows:
1. Allows the LED display to show natural and vivid colors. 
2. Ensures that all LEDs have been color rendered
---
DIGITAL DATA REVISION
If an single pixel fails, the data will be read-out from the EEPROM and then re-wrote to the replacement chip. After this process the brightness value is calibrated again to ensure the uniformity of the entire system, thus providing easy and fast maintainability. At the same time, the system records every displays' initial calibration data to avoid uneven brightness caused by led attenuation. The updated screen brightness calibration data and recorded data, both ensure the uniformity of
the display's brightness over a period of time.