Black Diamond | Cinema LED Display Technology
Our Cinema LED Display Technology is brought to you by The Black Diamond Series, which is a UHD indoor LED display cabinet primarily used for high-end indoor projects which require ONLY the highest quality for installation. Airports, shopping malls, exhibitions and many other applications are ideal for the Black Diamond, as this prestigious product line projects pristine imagery with extreme clarity and crisp picture. Also, the Black Diamond allows users to integrate the cabinet into a fixed, rental or perimeter product, and is offered in both front and rear access. To allow users to integrate their display for a custom installation we have developed an array of multiple cabinets sizes with the standard being 768mm x 768mm using a 384mm x 192mm tile, however we also offer a 576mm x 192mm cabinet using 192mm x 192mm tiles and a 250mm x 250mm tile. Some of our more notable projects have been custom designed and integrated at numerous worldwide Fortune 500 company headquarters.
Key Features
COLOR & BRIGHTNESS CALIBRATION: Fully calibrated to meet REC709 and REC2020 calibration standards with an optional DCI P3 D65.
FULL REDUNDANCY SIGNAL: Zero down time during screen operating time.
HOT SWAPPABLE PSU: Equipped with dual-power supply and dynamic load system ensures the show will continue to go on.
REAL TIME MONITORING: Able to monitor and auto-adjust temperature, voltage/power consumption, data and many other aspects in real time.
MULTI-CABINET SIZES: Enables end-user with the flexibility to customize their LED displays size.
LIGHT WEIGHT & RUGGED: Sleek aluminium profile strong enough to withstand extreme weight from a hanging or fixed installation.
QUICK & EASY INSTALLATION: Zero tools needed for installation with our click and rig components.
Leading Cinema LED Display Technology
Available Pitches (mm)
THE CINEMA OF THE FUTURE MOVIES
Pledco's Black Diamond Series Cinema LED display technology nurtures a premium viewing environment and revitalizes the cinema as an entertainment choice. As the newest movie theatre-ready LED screen, it's ultra brightness, precise color presentation and uniformity improve captivation and bring content alive.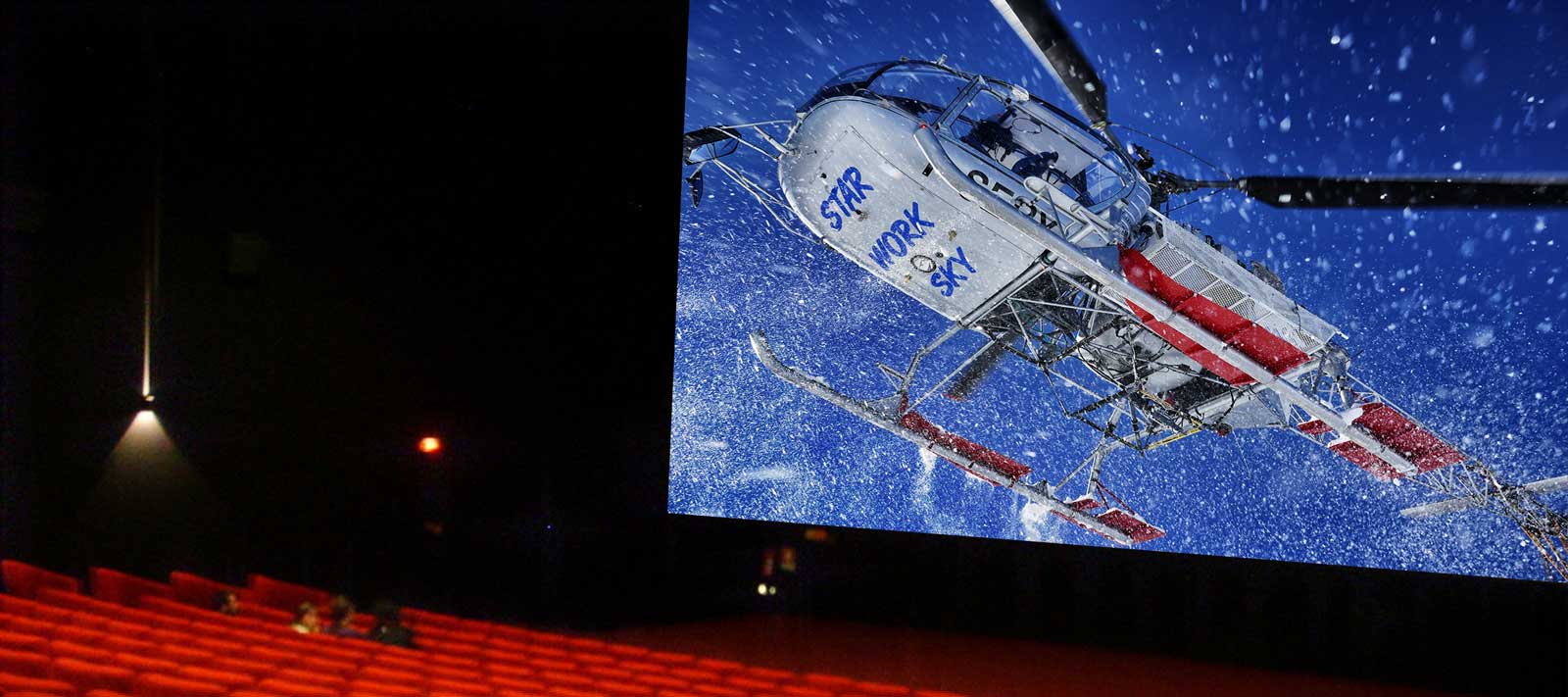 LED CINEMA TECHNOLOGY
IMPROVE PRECISION WITH ULTRA CONTRAST
Experience deep depth & picture detail with amazing deep blacks. You benefit from having a realistic picture, whether you're watching in a highly illuminated room or one with no light at all. Enjoy the experience of our latest Cinema LED display technology.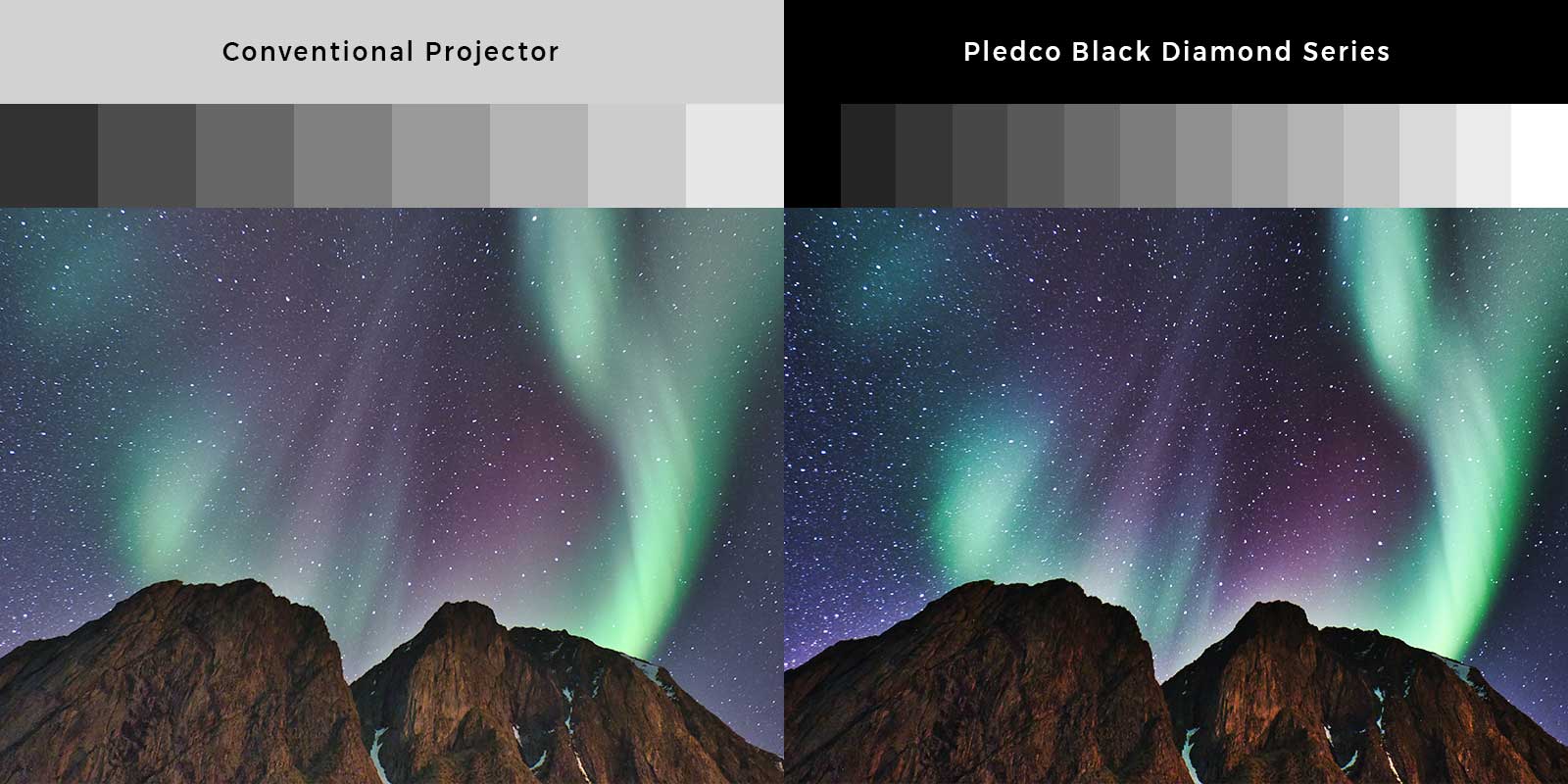 READY TO STEP INTO A NEW WORLD OF CINEMA
Leave us a message and our sales expert will help you to take that first step to find your Cinema LED display technology solution.

---
PROVIDE PRISTINE HDR CONTENT
By presenting High Dynamic Range (HDR) imagery high-end technology to the cinema, the Pledco Black Diamond Series screen increases content to brightness levels almost x6 times greater than the accepted, movie theatre standard. This high-quality technology creates a sharper and more detailed presentation for any Cinema LED display technology.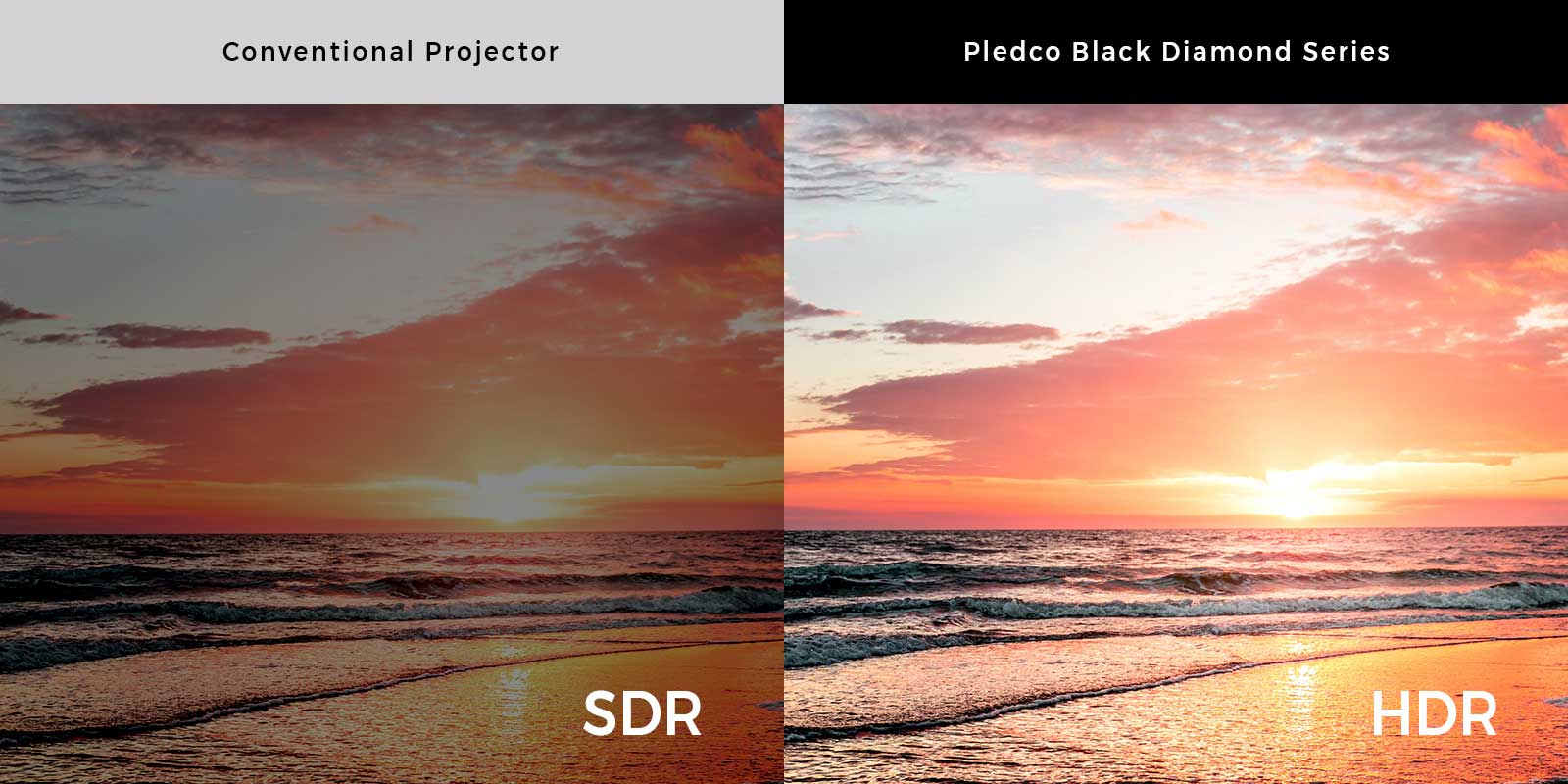 BALANCE BRIGHTNESS & COLOR PRECISENESS
Through a precise picture, the Pledco Black Diamond Series display impedes cinema operators from having to select between brightness and color quality. The screen accomplishes this flawless balance by maintaining excellent color accuracy for a range of hues even at peak or near-peak brightness.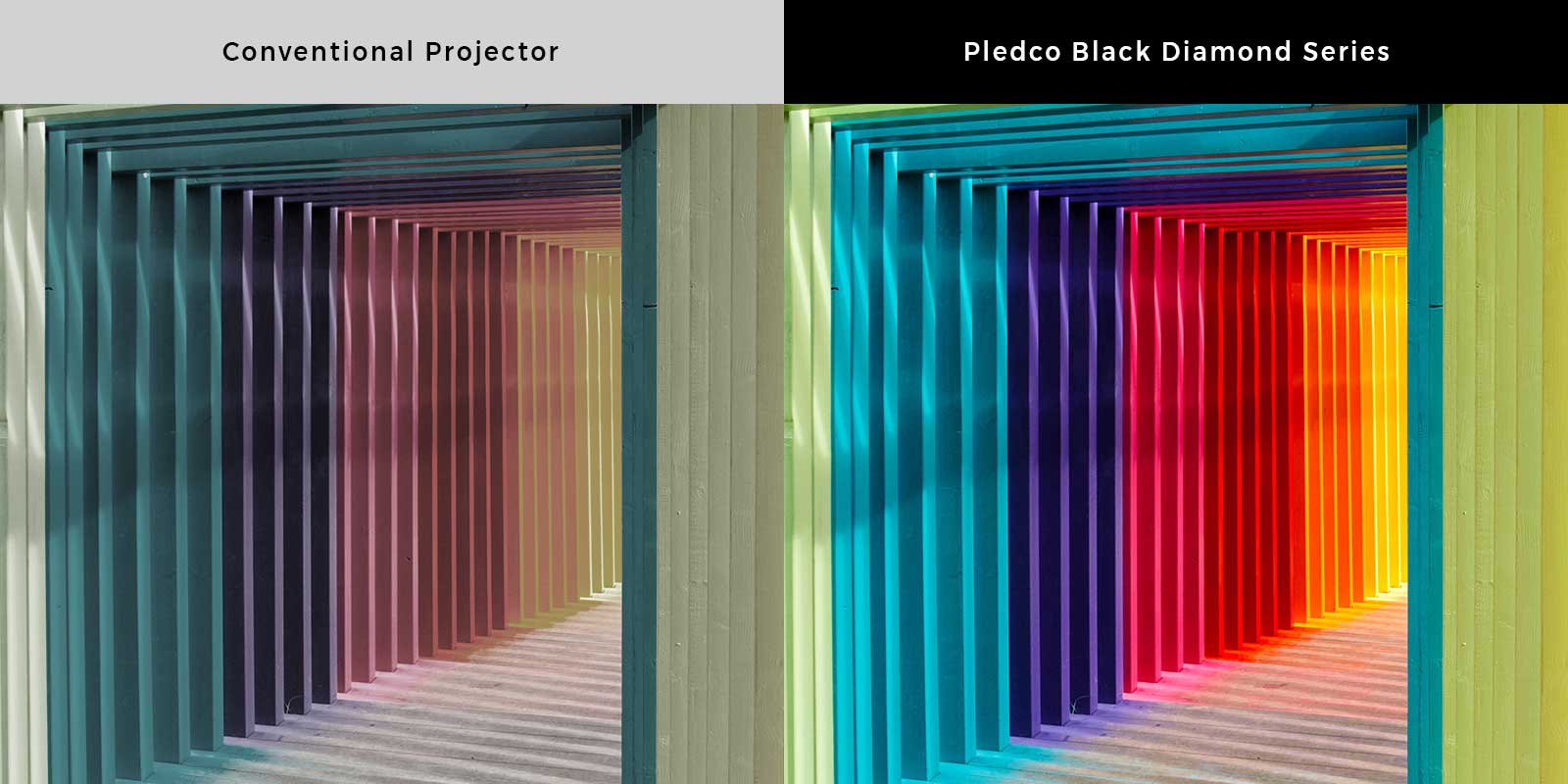 SOLVE DISTORTION – FOCUSED CONTENT
Pledco's Black Diamond Series diversion-free design keeps audiences concentrated on content, rather than the screen itself. Improved content uniformity allows users to experience visual details that otherwise might be lost or hidden on standard cinema and home screens.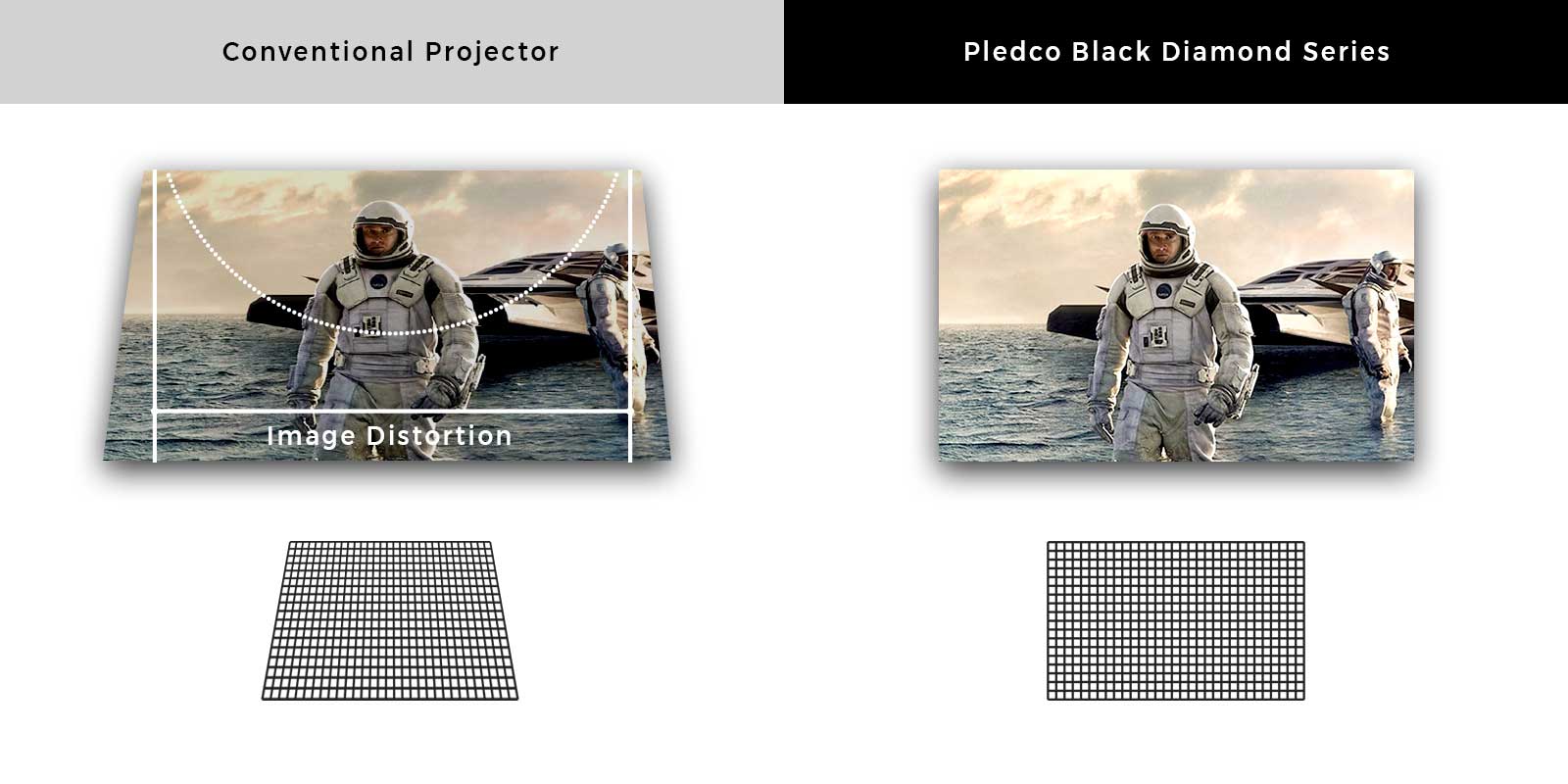 Native 16:9 Resolution
Our 16:9 golden ratio cabinet design allows the LED Display to be easily compatible with the standards FHD, 2K, 4K & 8K resolution without scaling.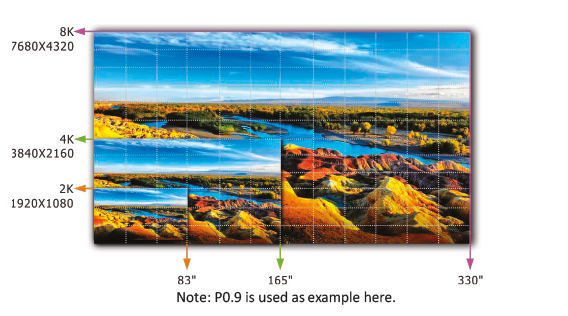 ---
Front Service Design
Front installation and servicable.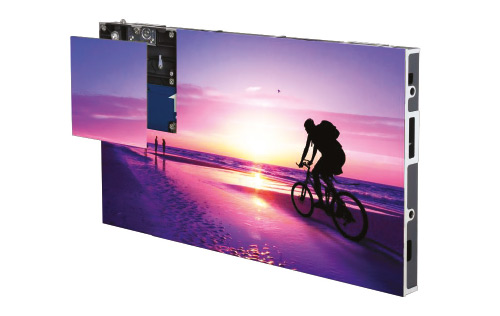 ---
Thin & Lightweight Module
Super Thin cabinet design with a thickness of only 38.5mm.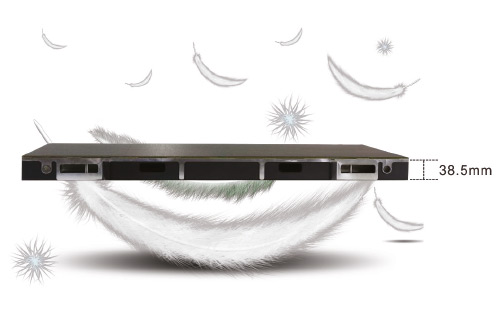 ---
All-In-One Mainboard
Combined with our power supply and hub board, the all-in-one main board
ensures high integration and reliability.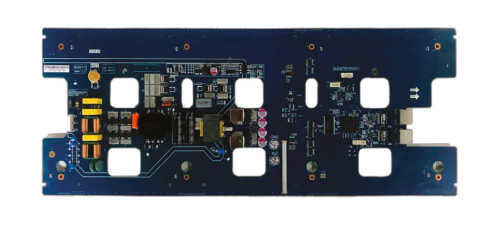 ---
CNC High-Precision
High-precision CNC aluminumprofile structure which keeps the joint seams under 0.1mm.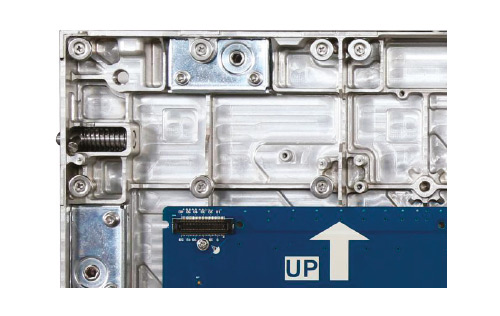 ---
DCI-P3 AVAILABILITY
Pledco is now the first LED display company in the industry to integrate the DCI-P3 Color Gamut at 100% as our new optional standard. We took it upon ourselves to match the DCI-P3 Gamut based on famous brands such as; Apple, Microsoft, Samsung and Google. Our Black Diamond's P1.5-1.9-2.5mm can be equipped using the DCI-P3 at 100% as an optional requirement.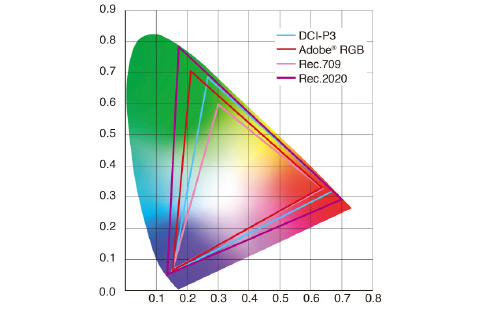 ---
LOW BRIGHTNESS & HIGH GREY LEVELS
The BLACK DIAMOND Series' Indoor LED Display cabinet has the ability to project high levels of grey while maintaining low brightness. The grayscale comparison can be seen below to prove our technology's pristine imagery. Standard LED display cabinets fail to reach high levels of grey scale due to low quality engineering from their software and calibration, however, Pledco's advanced software, control system and calibration enables us to reach these picturesque levels while maintaining low brightness.

---
HD BROADCAST COMPATIBLE
The BLACK DIAMOND Series' Indoor LED Display cabinet is HD Broadcast compatible for television recording. Our ultra-high refresh rates ensure when broadcasting live television the LED display stays flicker free but more importantly continues to project pristine imagery. In addition all our HD LED display are fully equipped with a full redundancy control system to ensure zero downtime during a live event.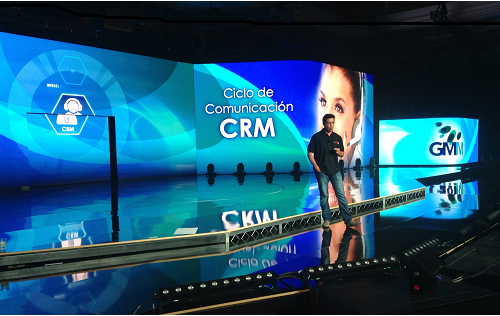 ---
Module Dimension (mm)

---
ULTRA HIGH RESOLUTION
Pledco's cabinets have been specifically designed to match the golden ratio of 16:9 with the intention to easily match industry resolution standards such as Full HD, 4K or 8K.