SX Series | Cloud Controlled LED Displays
Engineered by LED display experts, the SX Series' design addresses the challenges and unique benefits of remote powered/controlled LED displays. The architecture uniquely addresses mounting, alignment, space constraints, reliability, fault-tolerance, fast service, power efficiency, scalability and long life, resulting in superior visual performance and value to the customer.
Key Features
IP-Cloud Based Control
Indoor / Outdoor Fixed Installation
Front & Rear Access
IP 66
Tile Size | 400 x 400 x 68 MM
Weight | 3KG
High Brightness | 7500+ nits
Magnetic Installation
Indoor Pixel Pitches
Outdoor Pixel Pitches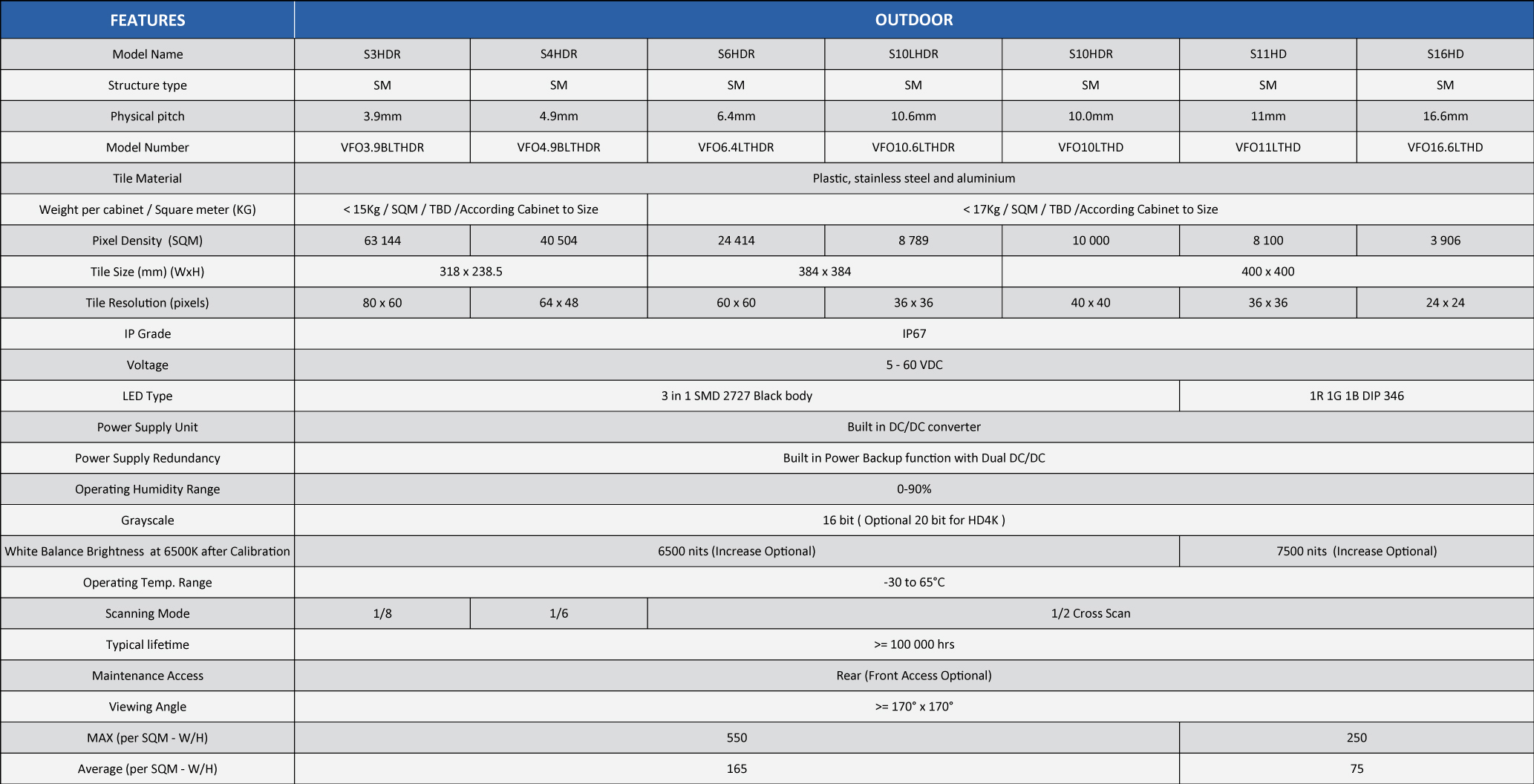 SX Series Features
Auto Mapping
Smart sensors in the panel locate the neighboring panels. Intelligent soft and hardware interaction detects the cable arrangements and panel layout.
No Sending box
No dedicated hardware for controlling the system required, each SX Series tile has an integrated smart and standalone controlling function.
Hardware based unique ID for each individual panel.
A unique ID from each tile enables simple tile identification and life time tracking & tracing. Leasing providers benefit from tracking and remote enabling and disabling of the tile.
Remote Monitoring without additional hardware.
Smart monitoring of temperature, humidity, power consumption, automatic brightness control, as well as dead LED detection and alarm function is standard on-board of the SX Series.
Remote Firmware upgrade enabled
The controller software allows simple and remote operated firmware upgrades.
Digital proof of play
Digital proof of play based on a secure electronic fingerprint. The image data on pixel level is stored by a trusted third party, and can be retrieved in order to verify what content is displayed on the LED Display at any point in time.
Remote Power & Data Control Room
The SX Series has been specifically designed to allow your LED display to be controlled by both power and data remotely. This innovative concept ensures the main heat source is distant from the LED display itself, and thus improves the overall longevity of your LED display. This is extremely important for high resolution LED Displays as the heat produced has the potential to cause serious effects to the lifetime of the screen.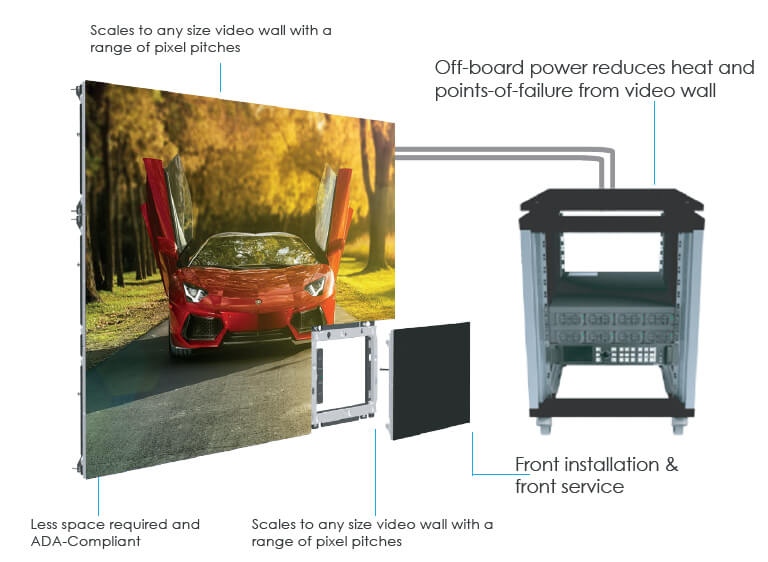 Front & Rear Maintenance
The clever designed tile structure allows very fast and simple front and rear maintenance.
Combined Power/Data Cables & Connectors
Neater and easier installation by requiring only one cable for power and data transfer.
Calibration Data Stored on Every Tile
An ingenious designed LED board stores the calibration data. This method moves away from the traditional way of saving this calibration data on the receiving card, and drastically simplifies the LED tile exchange in case of failure.
Fast & Easy Frame Attachment
A smart designed locking system enables a very easy installation on any frame structured signed by yourself, or offered by one of our installation partners.
---
SYSTEM CALIBRATION
All X & Y coordinates are kept in our client project database. When you order new tiles for an existing project we retrieve the original X & Y coordinates. This ensures during calibration all colors are matched properly. Typically in video mode you will not see any color differences, however when white is at 50% brightness the user may see a slight difference in color.
---
COLOR ENHANCING
After calibrating with our Radiant PM-1400F Calibration System in a dark room, the wave length difference for each color will only be less than 0.01nm. Our patented control system allows users to select several different color spaces such as; 2k (REC709), 4K (REC2020) or create your own color space by using our user-friendly software.
---
COLOR COORDINATION PROCESS
The same batch of LED's with discrete distribution are all moved to PAL Mode Chroma Area through color coordinate calibration Technology. Since each LED batch produced has different coordinates this requires precise color calibration, which in turn allows:
1. Allows the LED display to show natural and vivid colors. 
2. Ensures that all LEDs have been color rendered
---
DIGITAL DATA REVISION
If an single pixel fails, the data will be read-out from the EEPROM and then re-wrote to the replacement chip. After this process the brightness value is calibrated again to ensure the uniformity of the entire system, thus providing easy and fast maintainability. At the same time, the system records every displays' initial calibration data to avoid uneven brightness caused by led attenuation. The updated screen brightness calibration data and recorded data, both ensure the uniformity of
the display's brightness over a period of time.