Pro Tour Series | Rental LED Display Touring Cabinet
The Pro Tour Series is the most advanced high-end Rental Touring LED Display cabinet currently available in the market. Light-weight, rugged, reliable and multi-functional the Pro Tour Series has truly set the stage as an industry leading solution to add to your cross-rental product portfolio. Broadcast standard allows installation for either an indoor or outdoor environment since the Pro Tour Series is fully capable to integrate seamlessly into any type of venue. Our touring panel has been integrated into numerous top venues worldwide such as; Justin Timberlake, Lady Gaga, Michael Bublé, Céline Dion, The Victoria Secret Show and many other notables. This tool free cabinet allows for a simple rig and click installation which in turn reduces the overall turnaround time needed during set up and take down.  Our control system is full redundancy with hot-swappable receiving cards and power supplies to ensure zero down time during a live event. Most importantly the acute precision of the multi-point curving system empowers users the freedom and flexibility to shape/design their LED display to fit any type of location (+/- 15° every 384mm).
Key Features
HONEYCOMB TILES: Provides the ruggedness and protection for long lasting usage.
FULL REDUNDANCY SIGNAL: Zero down time during a live event.
HOT SWAPPABLE PSU: Equipped with  dual-power supply and dynamic load system ensures the show will continue to go on.
REAL TIME MONITORING: Able to monitor and auto-adjust temperature, voltage/power consumption, data and many other aspects in real time.
MULTI-CABINET SIZES: Enables end-user with the flexibility to customize their LED displays size.
LIGHT WEIGHT & RUGGED: Sleek aluminium profile strong enough to withstand 1000KG of weight from a hanging or fixed installation.
QUICK & EASY INSTALLATION: Zero tools needed for installation with our click and rig components.
CURVABLE CABINET: Adjust the cabinet to either concave or convex to find the exact curvature you require.
CLIMBABLE CABINETS:   Sturdy cabinets combine to make a stable structure for safe climbing and urgent maintenance requirements.
VIDEO FLOOR MODE:  Simply convert the Pro Tour Series to a Video Floor with the use of our proprietary components.
Available Pitches (mm)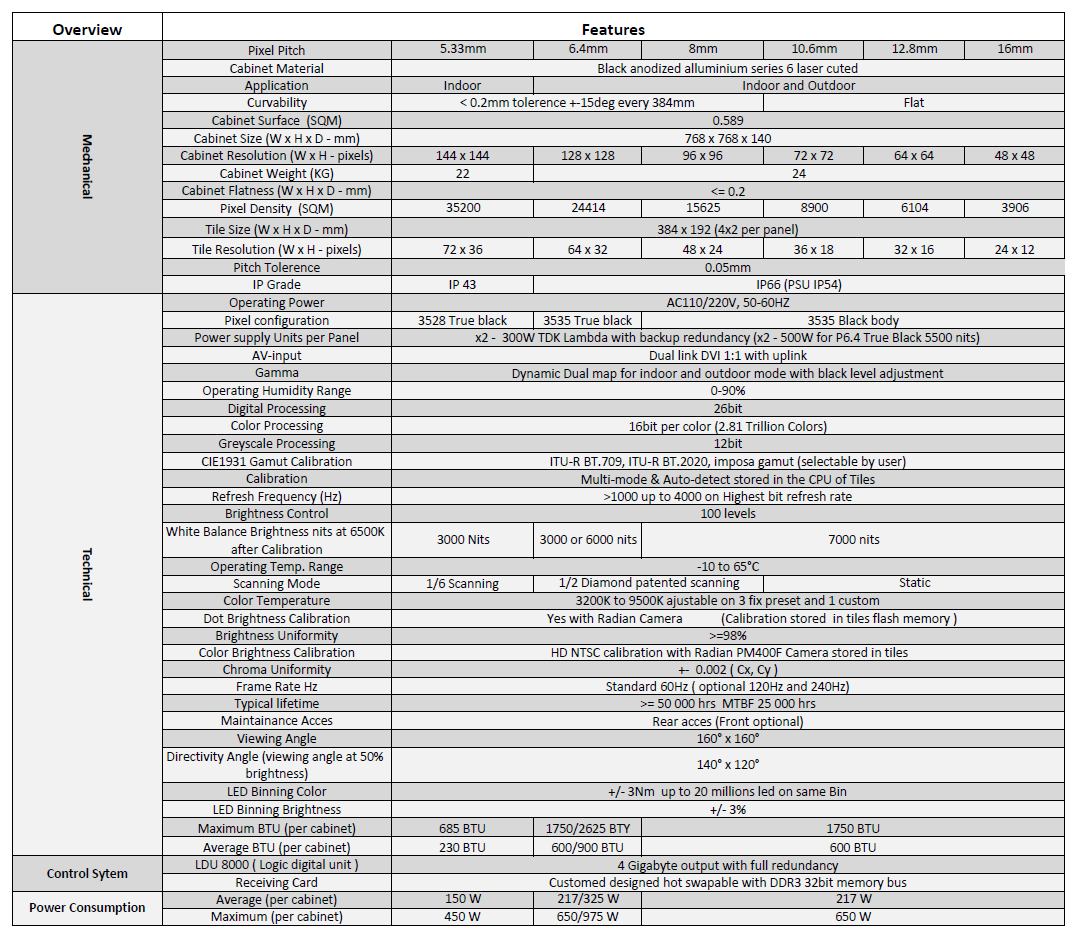 LIGHT WEIGHT & RUGGED
The Pro Tour Series' Rental LED Display cabinet has a sleek aluminium profile strong enough to withstand 1000KG of weight from a hanging bar or fixed installation.  The Pro Tour Series cabinet has been TUV tension tested and certified to ensure it can safely be stacked 20 cabinets high (768mm x 768mm) for venues which require a massive rental LED display. testing

---
EASY INSTALLATION & MAINTENANCE 
The Pro Tour Series' Rental LED Display cabinet is the easiest rental product to install on the market. Simply rig and click with zero tools for a quick and easy installation. Our patented clamp components ensure the installation process is completed in half the time as most competitors, thus saving cost of labor and reducing the initial set up time for highly important events.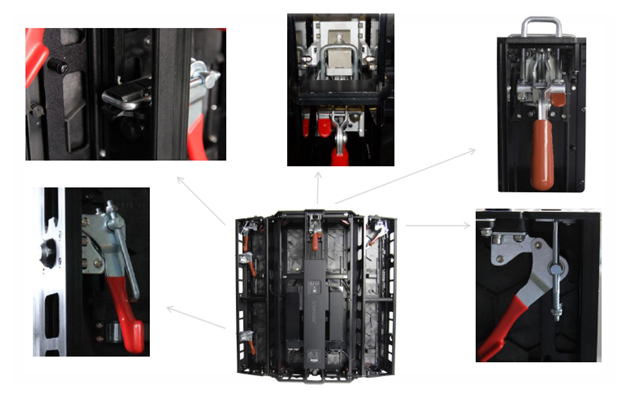 ---
Curvable Cabinets
The Pro Tour Series' Rental LED Display cabinet's curvable structure allows users to set the curvability to either convex or concave of +/-15º. The cabinet consists of a combined main cabinet and a left/right section which enables your LED display to be custom curved to their desired angle. Our patented zero point guide pins are a unique system which can easily lock the panels to a precise angle based on your projects requirements. 

---
Hot Swap Power Supply
The Pro Tour Series' Rental LED Display cabinet's hot swap power supply ensures live events have zero down time. The unique design allows for a quick and easy power supply swapping on any defective PSU's. Each cabinet is fully equipped with dual PSU's which act as a backup in case users face an issue with a potential power supply. Users are then notified via SMS when a faulty PSU has occurred, and the spare power supply will manage the power consumption for the entire cabinet to ensure any live event is never jeopardized.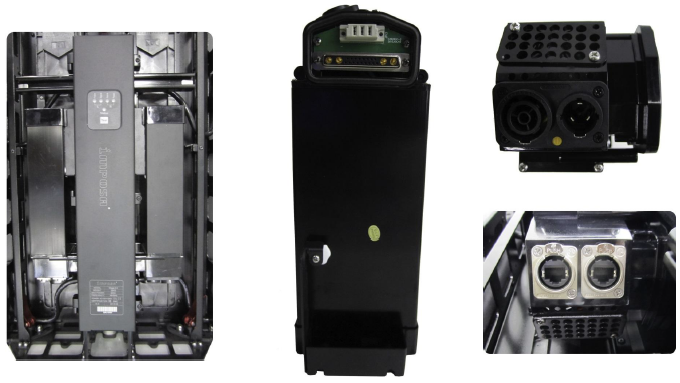 ---
Hot Swap Receiving Card
The Pro Tour Series' Rental LED Display cabinet's has been specially designed with a hot swap receiving card which allows users to change tool free within minutes of notification. Once a receiving card indicates it is defective users are notified via SMS of the issue. During a live event maintenance can change the receiving card with zero LED display down time.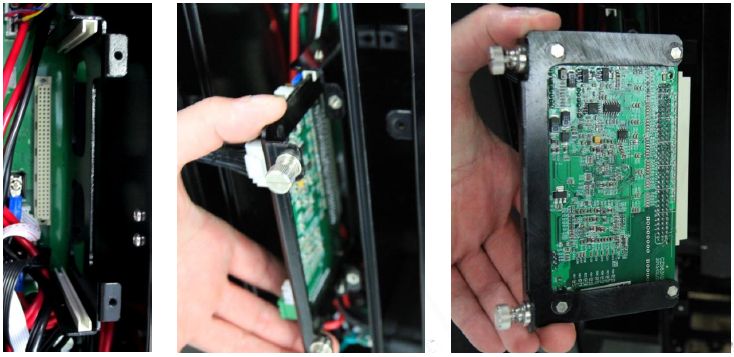 ---
Video Floor Compatible
The Pro Tour Series' Rental LED Display cabinet can be adjusted to a video floor and used for numerous types of event applications. Users can choose whether to install their LED display from a hanging bar, ground installation or video floor based on their event's requirements.  Simply adjust the cabinets into video floor mode and integrate with our special ground support component enabling users with a multitude of application options.