TV SERIES | Ultra HD TV 140" | P1.6mm
Pledco's P1.6mm UHD LED Display has been designed and developed specifically for office building entrances, conference/meeting rooms and indoor signage. The ultra high definition quality of our LEDs ensures crisp and pristine imagery for maximum exposure. Typically used to replace existing video walls our UHD LED displays provide a powerful lasting impact on viewers.
Key Features
5 Year Warranty
Ultra High Definition
Multiple Inputs
SPECIAL WALL MOUNT BRACKET
Pledco has designed a universal wall mount bracket for the 140" LED Display which enables system integrators to seamlessly install their displays onto any existing wall structure. Simply rig and click the screen directly onto a wall mount and begin displaying content immediately.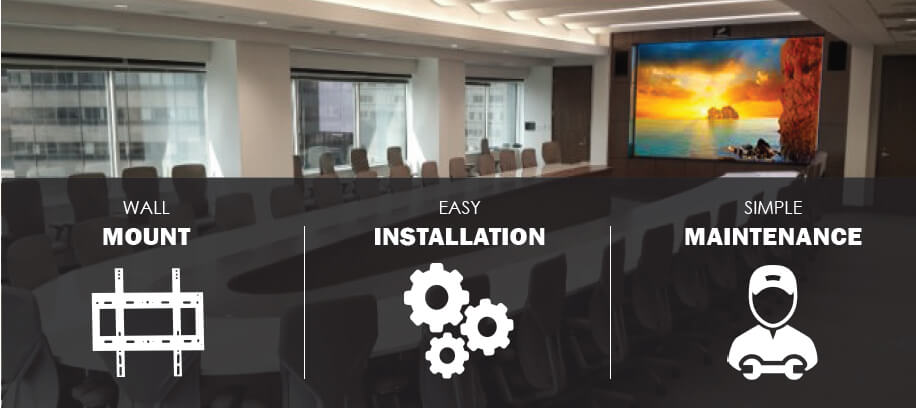 ---
SYSTEM CALIBRATION
All X & Y coordinates are kept in our client project database. When you order new tiles for an existing project we retrieve the original X & Y coordinates. This ensures during calibration all colors are matched properly. Typically in video mode you will not see any color differences, however when white is at 50% brightness the user may see a slight difference in color.
---
COLOR ENHANCING
After calibrating with our Radiant PM-1400F Calibration System in a dark room, the wave length difference for each color will only be less than 0.01nm. Our patented control system allows users to select several different color spaces such as; 2k (REC709), 4K (REC2020) or create your own color space by using our user-friendly software.
---
COLOR COORDINATION PROCESS
The same batch of LED's with discrete distribution are all moved to PAL Mode Chroma Area through color coordinate calibration Technology. Since each LED batch produced has different coordinates this requires precise color calibration, which in turn allows:
1. Allows the LED display to show natural and vivid colors. 
2. Ensures that all LEDs have been color rendered
---
DIGITAL DATA REVISION
If an single pixel fails, the data will be read-out from the EEPROM and then re-wrote to the replacement chip. After this process the brightness value is calibrated again to ensure the uniformity of the entire system, thus providing easy and fast maintainability. At the same time, the system records every displays' initial calibration data to avoid uneven brightness caused by led attenuation. The updated screen brightness calibration data and recorded data, both ensure the uniformity of
the display's brightness over a period of time.