Ariel Series | Wind Through LED Display
Light-weight, rugged, reliable and multi-functional the Ariel Series has truly set the stage as an industry leading solution to add to your cross-rental and billboard product portfolio. Broadcast standard allows installation for either an indoor or outdoor environment since the Ariel Series is fully capable to integrate seamlessly into any type of venue. Our cabinets has been integrated into numerous top venues worldwide such as; Justin Timberlake, Lady Gaga, Michael Bublé, Céline Dion, The Victoria Secret Show and many other notables. This tool free cabinet allows for a simple rig and click installation which in turn reduces the overall turnaround time needed during set up and take down.  Our control system is full redundancy with hot-swappable receiving cards and power supplies to ensure zero down time during a live event.
Key Features
WIND-THROUGH TECHNOLOGY: Allows installation in harsh environments and reduces the stress of the structure on the LED display.
HEAT DISSIPATION: Zero noise emissions and low maintenance costs.
FULL REDUNDANCY SIGNAL: Zero down time during a live event.
HOT SWAPPABLE PSU: Equipped with  dual-power supply and dynamic load system ensures the show will continue to go on.
REAL TIME MONITORING: Able to monitor and auto-adjust temperature, voltage/power consumption, data and many other aspects in real time.
MULTI-CABINET SIZES: Enables end-user with the flexibility to customize their LED displays size.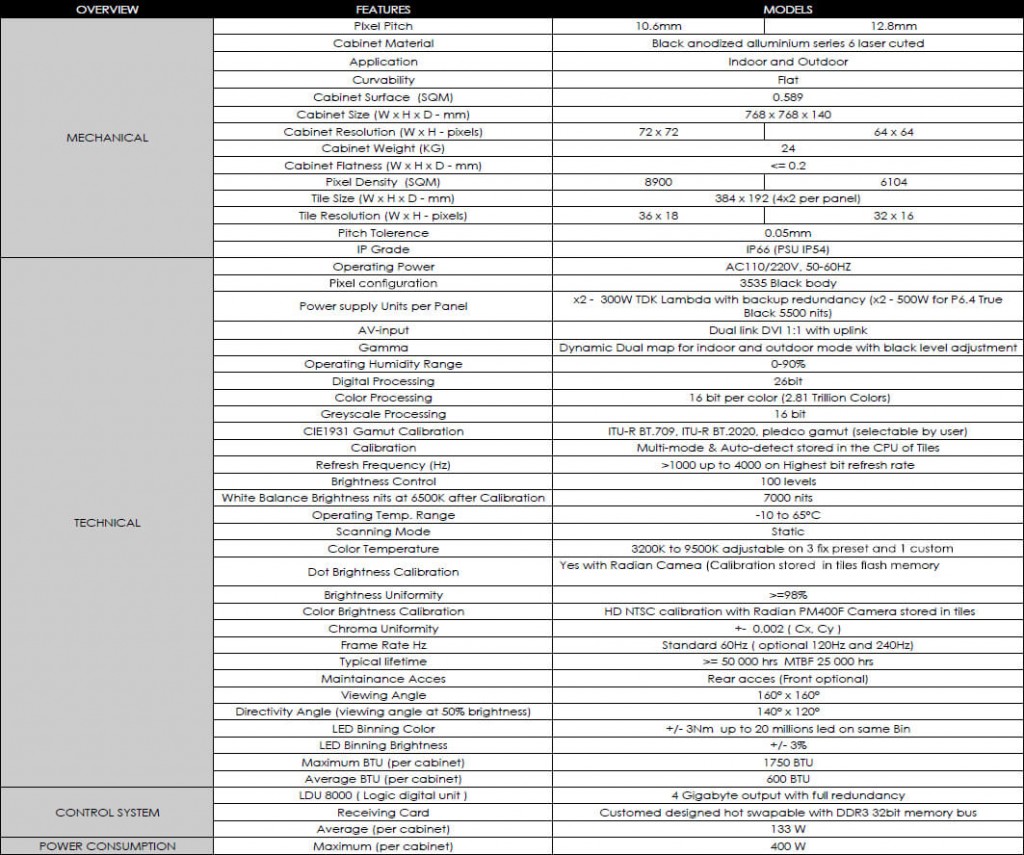 Wind-Through Technology
The Ariel Series uses a special design to allow high pressure winds to seamlessly pass through the structure of the LED display. Users are now able to install in harsh environments such as large outdoor events or building rooftops since the Ariel Series has been built to withstand high stress points from harsh environments.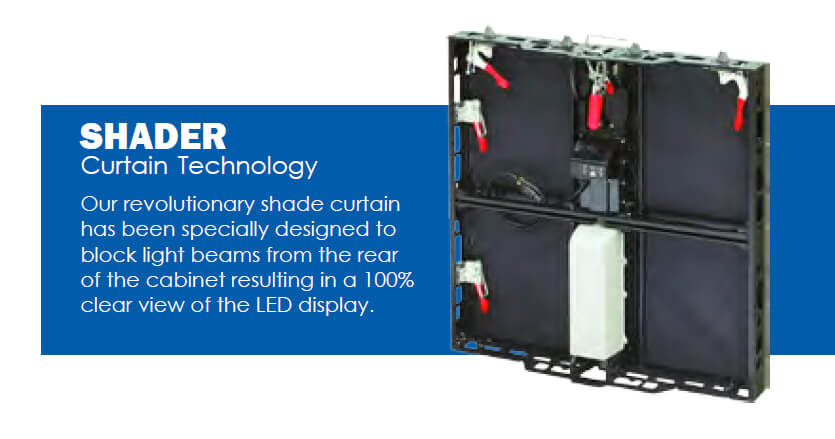 Mechanical Compatibility
The ARIEL is able to in – tegrate with any Pro Tour Series cabinets as well as our LDU 8000 and 2800 controllers.
Quick Setup
With our patented Rig & Click tech – nology, you can install and stack cabinets without any tools. This function is crucial for the touring market.
Heat Dissipation
We use natural convection in our Heat Sink technolo – gy, thus creating no noise emmissions and low main – tainance costs.
Strong and Rigid
Max. hanging capacity is 20 cabinets high (TUV certified)
Light Weight Materials
16kg. per cabinet
Modular Design
Slim and compact sized cabinets; 768(H) x 768 (W)mm
---
Shader Curtin Technology
Our Shader technoloby can be view in a 3D image which highlights engineering points of this product. This wind through technology allows large rental screens to be quickly installed and reduce the risk of structural issues.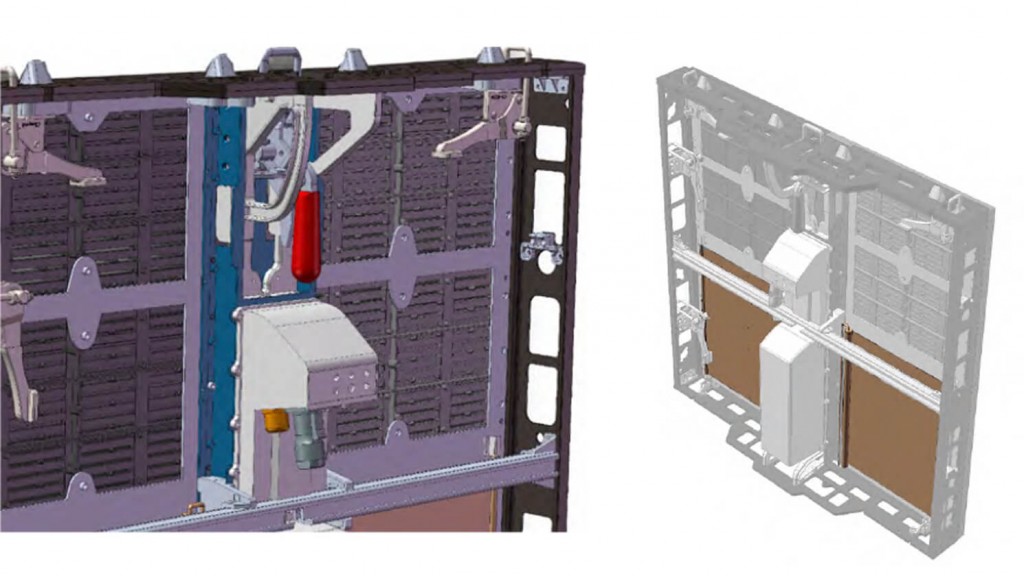 ---
SYSTEM CALIBRATION
All X & Y coordinates are kept in our client project database. When you order new tiles for an existing project we retrieve the original X & Y coordinates. This ensures during calibration all colors are matched properly. Typically in video mode you will not see any color differences, however when white is at 50% brightness the user may see a slight difference in color.
---
COLOR ENHANCING
After calibrating with our Radiant PM-1400F Calibration System in a dark room, the wave length difference for each color will only be less than 0.01nm. Our patented control system allows users to select several different color spaces such as; 2k (REC709), 4K (REC2020) or create your own color space by using our user-friendly software.
---
COLOR COORDINATION PROCESS
The same batch of LED's with discrete distribution are all moved to PAL Mode Chroma Area through color coordinate calibration Technology. Since each LED batch produced has different coordinates this requires precise color calibration, which in turn allows:
1. Allows the LED display to show natural and vivid colors. 
2. Ensures that all LEDs have been color rendered
---
DIGITAL DATA REVISION
If an single pixel fails, the data will be read-out from the EEPROM and then re-wrote to the replacement chip. After this process the brightness value is calibrated again to ensure the uniformity of the entire system, thus providing easy and fast maintainability. At the same time, the system records every displays' initial calibration data to avoid uneven brightness caused by led attenuation. The updated screen brightness calibration data and recorded data, both ensure the uniformity of
the display's brightness over a period of time.