EN12966 Certified (European Standard)
The Adtentus Series has been fully certified as EN12966 by the Italian Lab – Istituto Giordano. All products within the Adtentus Series display revolutionary technology which has only recently hit the market. After undergoing rigourous testing the Adtentus Series has placed with flying colors across all facets such as; Color, Contrast, Viewing Angle, Power Consumption, Reflection and Light Pollution.

---
Power Consumption & Cost Savings per Year
Pledco's innovated power saving technology is rapidly replacing standard LED display billboards as an emerging giant in the market of DOOH. The Adtentus saves more than 150% in power consumption costs when compared to a standard SMD Billboard (figure 1). More importantly, the ecological footprint has been reduced by nearly 170 KW per year when comparing 60SQM of Adtenus vs. a standard SMD Billboard (figure 2). In (figure 3) a chart details specifications which are considered of the utmost important when choosing a LED Billboard.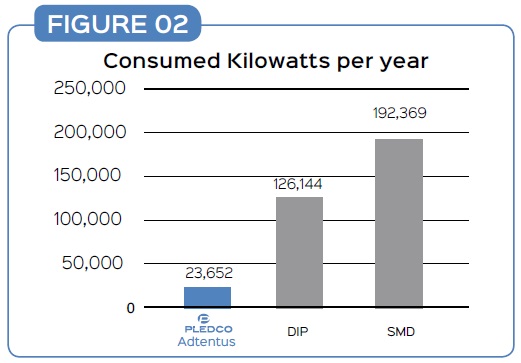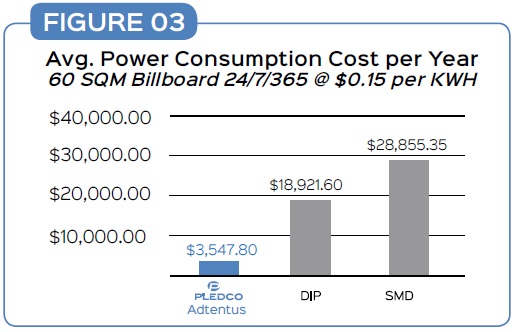 ---
How to Achieve the Ideal Contrast Ratio

---
The Importance of Contrast Ratio
Contrast Ratio is the degree of pixel illumination over the degree of ambient illumination (daylight). A good contrast ratio is achieved by a billboards front face's ablility to absorb ambient light, and not to reflect it. This is achieved with a proper front face paint (deep black matte paint with ultra- low reflection ratio) and special pixel design. Pixels should absorb the ambient light, not reflect it – this is achieved by placing specially crafted lenses in front of LEDs.
IMPORTANCE: Contrast ratio should always be considered in conjunction with luminance. Contrast ratio assures that a LED display with sufficient luminance features satisfactory legibility. Without proper contrast ratio, even with sufficient luminance, a LED display will be poorly legible. On the other hand, LED display with proper contrast ratio will be legible to the viewers. Contrast ratio is achieved either by increasing a sign's luminance or decreasing the front face reflection.
---
Understanding Beam Width
Beam Width (viewing angle) is an essential parameter that determines the visibility of a LED Display. Beam Width is the visual region in which the LED Display is still visible to the viewer. It is a set of three viewing angles from the center (horizontal left, horizontal right, vertical down), at which the brightness level is at least 50% from the 0º point of directivity. The graphics below show the difference between a DIP billboard and the Adtentus technology. The Adtentus's brightness and viewing angle is extremely precise and accurate thus ensuring zero power consumption and light pollution is wasted.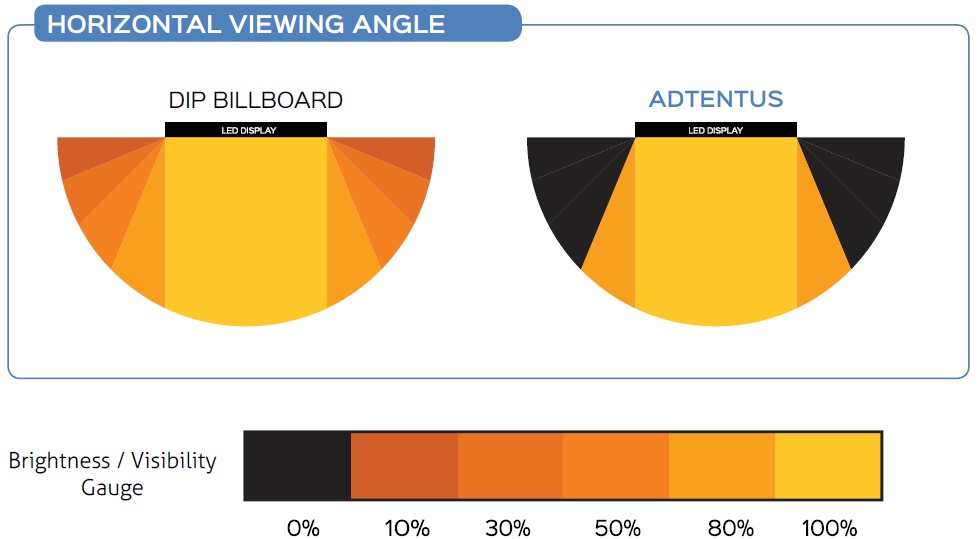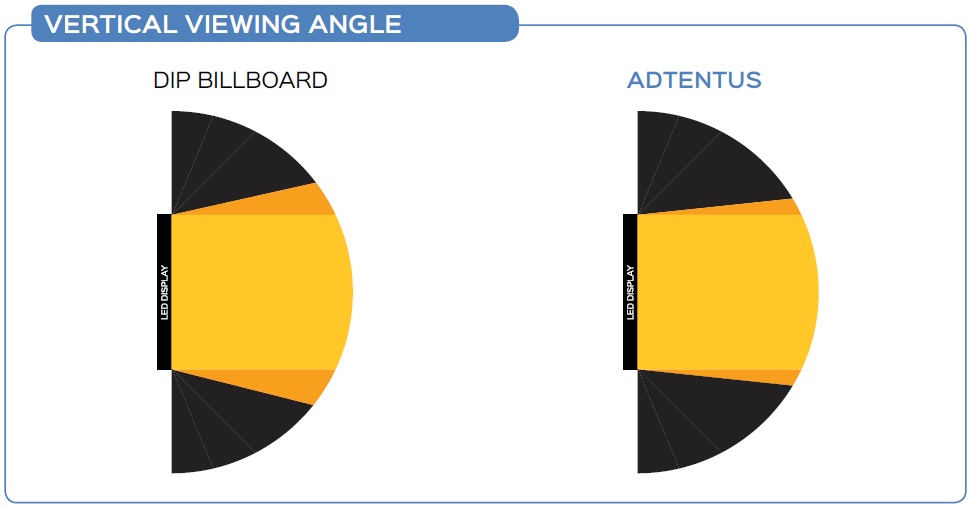 ---
The Importance of an Efficient Viewing Angle
Light pollution is excessive, misdirected, or obtrusive artificial light. Over-illumination, as one form of light pollution, occurs in traffic. Over-illumination means the excessive use of light. It happens mostly due to the incorrect choice and design of LED fixtures in traffic signs. This is the result of not directing light only to the areas needed, but letting light dissipate and, thus, not providing optimal light pattern.
Light pollution by a LED Display can be caused by:
• High intensity LEDs
• Non-optimal light pattern
• Wide Beam Width
Consequences of light pollution are numerous, but the most critical are the waste of energy and disruption of our eco-system, as seen in figure 4.